Mechanical hard disk drives (HDD) have remarkably evolved in the past few years to become a more reliable and sustainable solution for most types of users, ranging from mainstream-class level up to enterprise. With the new technologies implemented in their manufacture they could successfully work around many reliability issues their former generations went through, most significant is speed and stability. As far as speed is concerned, the biggest portion of the focus and efforts of hard drive manufacturers is directed to internal storage space. That's why, as of the time of writing these words, the best and fastest hard drive solutions out there are just internal drives and are released in 3.5-inch form factor (i.e. Desktop Hard Drives).
Important Notes:
• If you're looking for the fastest hard drive no matter how much it costs, we strongly recommend you to obtain a solid-state drive (SSD) instead.
• if you aim by seeking the best internal hard drive to use it as an external storage solution, we would highly recommend that before you continue reading this article to first view our best & fastest external hard drive list, where we gather the most reliable branded drives there.
The Fastest Hard Drives (HDD) Only

There's a consensus among IT professionals that the main culprit for the slowness modern computers undergo is the primary storage device, represented often by a mechanical hard drive. As a computer technician myself, I've found that most of the sufferings computer users experience come from their slow hard drives, and seeking the fastest internal hard drive as a replacement for your current drive is a very wise step to take. Because usually there is no complaint against processor speed, and the graphics card performance is impressive, and the only thing that gets on nerves is the slow responsiveness of the computer, especially when you try to store/transfer huge files, load resource-demanding games, launch heavy applications, or even just try to boot-up a machine with an operating system stuffed with many applications. These all justify finding a speedy solution to cut down on the time wasted in waiting.
Capacity That Matters

Desktop PC sales might be down, but our storage needs are increasing at a rather fast pace. When building a PC many experts often tell people to find out how much storage space they need now, then double that number for growth and then double that number again as you don't know what the future holds. Hard drive manufactures likely love that advice, but in all honesty it's not a bad way to ensure that you don't run out of space. So, if you have 1TB of data on your PC now, you might as well look at 3TB, 4TB or even 6TB hard drives for your next system build or secondary storage drive.
A Fast Hard Drive (HDD) Or An SSD?

I have written this article assuming that you are already aware of the existence of the flash-based solid state drive (SSD), which is undoubtedly a much faster and a more reliable solution than any spinning platter-based hard drive available. [Check out our fastest SSD list.] Yes, there are still strong and valid reasons for picking up a traditional hard drive instead of an SSD, mainly capacity and price, as the SSDs that are being used in desktops today do not have the capacity to store the tremendous amount of media we all use and store today. So a hard disk drive is still necessary because it provides a much larger storage capacity and just as importantly, affordably so. But I have been always recommending obtaining them both in a combination where the SSD takes care of the operating system and user's favorite files and applications, while the hard drive is dedicated to backup, file transfer and storage. [Read if you wish: "The Best To Do: Get an SSD and Keep Your HDD"]. That's if you want to build a new rig and can afford the expenses of both, otherwise you can still find in premium hard drives what meets most of your requirements.
That being said, obtaining the fastest internal hard drive can be a good idea if your budget is limited and you only want a single drive for your machine for all purposes.
But stop here, does "fastest" necessarily mean "best"?
Actually not, because reliability (with which we gauge "best") has a few factors and speed is one of them. A hard drive may be very fast, yet suffers from failure and instability, which makes it a real bad choice. On the other hand, a stable hard drive may be slow and will waste lots of your time. That's why; the best hard drive must feature the highest speed and longest stability. [For more details on these factors, you may want to read: Performance characteristics of a good hard disk]
The Most Reliable Internal Hard Drive Manufacturers

If your priority in internal hard drives is quality, your choices will narrow down to the drives released by three most prominent high-authority manufacturers; HGST (aka Hitachi GST), Seagate and Western Digital. These manufacturers are well-known to produce the most reliable hard drives.
As for Toshiba, it's a great manufacturer when it comes to external hard drive segment, but it's notorious in the internal hard drive industry due to the high failure rate their drives suffered in the past. Add to that, although Toshiba claimed the improvement in the reliability of their new drives, we couldn't find a real-world testing report released by a trustworthy IT professional regarding this manufacturer's internal hard drives, therefore we have decided to omit its drives from our list.
In the past there were many hard drive manufacturers that compete with these three guys, such as Maxtor and Samsung, but all of them vanished and left the industry. For more information about the defunct hard drive manufacturers, visit this page.
In May 2012, HGST was totally owned by Western Digital, and the announcement of that is published on WD's official website here.Therefore any drive found in the market stamped with the old traditional HGST trademark is produced before that date, and we are unlikely to present these drives in our list, as we only include the latest produced hard drives with the newest technology. Just make sure your HGST drive has this new trademark:
This trademark indicates that the hard drive models formerly produced by HGST are being now under the development of Western Digital, this is to distinguish them from other hard drive lines originally manufactured by WD.
So now your choices of 2015 are confined between two manufacturers: Seagate and Western Digital.
What Do You Need From an Internal Hard Disk Drive (HDD)

Before taking the decision of purchase and going for any internal hard disk drive (hdd) listed below, you have to gauge your needs first and see what type of user you are and for what purpose you want a new hard drive.
Enthusiast
If you are an extreme gamer or a professional video editor who use high-end and complex programs that consume lots of the system resources, and for that reason you need a strong and very reliable hard drive, I suggest you go for Seagate Enterprise Capacity V4 or Western Digital Black Improved Version. They offer unparalleled performance and outstanding reliability, and they come with 5-year limited warranty.
Or you can go for a regular hard drive [see below] as a secondary storage, and use a solid-state drive (SSD) as the main boot drive, and connect them both in hybrid mode [Read: Do It Yourself: Combine SSD With HDD In Hybrid Mode]. That way you will guarantee high speed and large capacity for a reasonable price.
Regular User
If you are just a regular computer user who don't have any professional, heavy resource-demanding application to often work with, particularly high-end video games that consume lots of system resources, or a complex graphics design/video editing software, then a regular/mainstream hard drive must be pretty much sufficient.
In terms of performance, I suggest for this type of users to go with Seagate Barracuda Internal Hard Drive. It offers a very good performance for the price and with a 2-year limited warranty. It's top-notch version comes in 6TB capacity, so this is supposed to be the best deal if you look for a combination of capacity and performance.
If your main concern is capacity, and you need a hard drive mainly for backup and storage purposes with a very decent price, and performance, although important, comes second in your priorities, then I strongly suggest you to consider Western Digital Green Desktop Hard Drive. We have not included it in our list because it spins at 5400RPM, and that's below our minimum standards in determining the best hard drives.
How Did We Make Our Recommendations?

Our factors in determining the best internal hard drive are: Speed, stability and endurance, and they all form the word "reliability". Speed and stability both feature "performance", while endurance features "longevity". We base our verdicts mainly on IT professionals' reviews of each item listed below, alongside with the users' ratings. That way we make sure that these drives are the top-notch of their class based on our standards of determining reliability.
You've to note though that only if you see the testimonials of IT professionals quoted in the details page of a particular drive, it means we considered the IT professionals' reviews when choosing that drive. Otherwise we would just depend on users' ratings on Amazon.com.
---
---
---
Note: The products prices are as of February, 11th - 2015 at 05:14 GMT -
** For SATA III Desktop Computers **
Seagate Enterprise Capacity 7200RPM Internal Hard Drive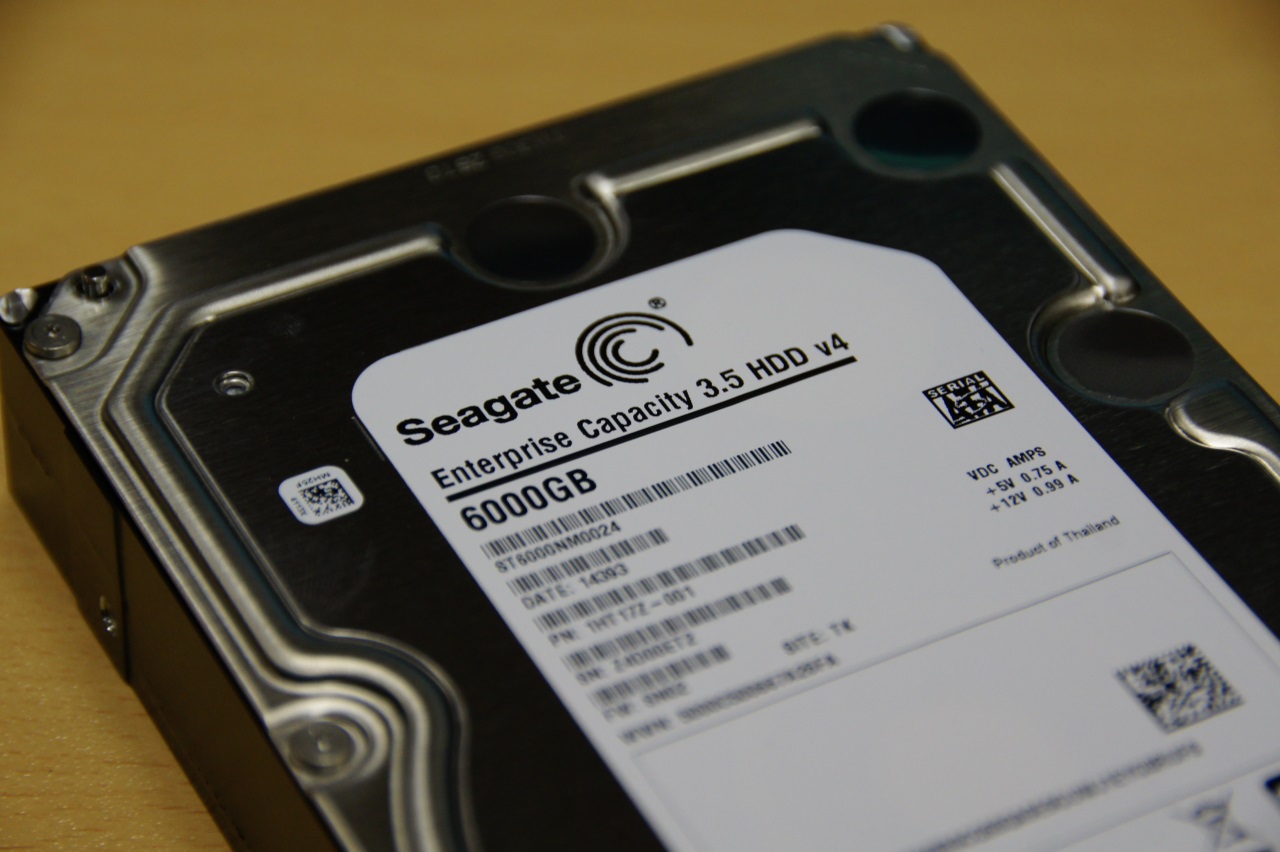 View More Details
The Seagate Enterprise Class 3.5 HDD V4 6TB is an exceptional performer, shaming all the 7200 RPM drives that preceded it. According to hothardware.com and others, this drive in its 6TB capacity is currently the fastest drive in the world. [Read their testimonial below in the testimonial section]
Supporting one of the industry's best response times today for a 6TB nearline drive, the Enterprise Capacity 3.5 HDD with it's multi-drive RV-tolerance capabilities enables faster data transfers by utilizing the latest interfaces on a trusted platform. And for reliable access to bulk storage, the Enterprise Capacity 3.5 HDD provides excellent IOPS/TB along with the reliability, availability and serviceability that your customers expect.
Note that Seagate does offer a 6TB desktop internal drive retail kit known as STBD6000100 and sold by Amazon currently for $244 as of the time of writing.
This drive comes in other 3 capacities, 5TB, 4TB and 2TB, but they are less speedy than this model. You can read our review on this drive on this page
Basic Features
•) World's fastest 6, 5, 4 and 2TB nearline hard drives
•) 10x the workload rating of desktop drives
•) Best-in-class rotational vibration tolerance ensures consistent performance
•) Improved power and cooling efficiencies with low power consumption and on demand Power Choice technology
•) Interface Type SATA 6.0 Gb/s (SATA 3)
•) Multi-drive firmware maximized for enterprise RAID system availability
•) 5 year limited warranty
Testimonials
The Seagate drive's average read/write speed of 164MB/s is the fastest we've ever seen from a drive with rotating platters, even besting the former champ, WD's 10krpm Velociraptor by a hair. The fact that the Seagate drive is faster despite its slower rotational speed shows you just how much of an advantage areal density can be.
The Seagate Enterprise Capacity 3.5 HDD v4 delivers a big jump in density, impressive performance gains, and even increased power efficiency. With its five-year warranty, class-leading performance, and host of enterprise class features, it earns the TweakTown Editor's Choice Award.
Well, I think it is safe to say that the Seagate Enterprise Capacity 6TB 3.5 HDD v4 is indeed a BEAST. I think I've said "beast" quite enough times throughout the review, often more referring to the size of this drive, but along with its large capacity is some rather large and impressive numbers to go with it.
---
If you find this drive expensive and you cannot afford its price, consider the following hard drive. although its first release date is in October 2013, it still performs great according to today's standards, and with adequate price compared with the above.
Western Digital Black
[
New & Improved
]
View More Details
Product manufacturer's description
: The new generation of WD Black hard drives feature Vibration Control Technology (VCT) which allows the disks inside the drive to adapt to any mounting problems or vibration conditions that are inside your case, resulting in increased data accuracy, performance and reliability over time. Put simply, this means you can game harder, faster and longer. In addition to Vibration Control Technology (VCT), WD Black is also equipped with StableTrac Technology, which secures the motor shaft inside the drive at both ends to help reduce additional system-induced vibrations. StableTrac confidently stabilizes the platters inside, resulting in more accurate tracking in a particular sector during read and write operations and delivers increased performance. (2 TB models and above).
You can view our review on this drive on this page.
Basic Features
•) Next-generation desktop performance hard drive designed to intensify your PC experience.
•) Improved Architectural Designs, featuring a Dual Core Processor, High Resolution Controller, and StableTrac Technology
•) Improved Data Protection, with Vibration Control Technology, Corruption Protection Technology, and No Touch Ramp Load Technology
•) Superior responsiveness with the next-generation speed that you need
•) Interface Type SATA 6.0 Gb/s (SATA 3)
•) OSes supported: Windows, Mac, Linux
•) 5 year limited warranty
Awards & Testimonials
---
Western Digital's updated Black line showed dominance over the market for the highest-capacity hard drives, providing top-in-class performance in all categories.
Once you have tried actually doing work on files that are stored on the WD Black drive, you will never go back to slower-spinning hard disk drives
All in all the WD Black is very fast, reliable, and has one of the best warranties available. We give it our Gold Seal.
---
If the above offers aren't within your budget capability, you may consider one of the drives below, they are of high quality but less than the ones presented above.

Seagate Barracuda Internal Hard Drive
View More Details
Product manufacturer's description:
By now the world knows that Seagate Barracuda 7200 drives, from the world's premier storage provider, deliver years of reliable service and high performance. The ideal choice for workstations, desktop RAID, gaming PCs, high-end PCs, mainstream PCs and USB/FireWire/eSATA external storage. After years of pioneering research at Seagate, perpendicular recording is now a proven technology. It increases capacity and dependability by storing data vertically, rather than horizontally. And vertically stored data bits mean increased data density which means higher performance to increase productivity. This drive delivers excellent power savings without sacrificing drive or system performance, giving customers the ability to manufacture PC systems and external storage systems that meet energy savings requirements. Seagate hard drives have long been produced with the environment in mind, and not just with low power consumption. With Seagate and the Barracuda drive, our customers can have the best of both worlds, top hard-drive performance and the satisfaction of knowing they are using a high-capacity drive with a very small eco-footprint.
Basic Features
•) SATA 6Gb/s interface optimizes burst performance
•) Seagate AcuTrac servo technology delivers dependable performance, even with hard drive track widths of only 75 nanometers
•) Seagate OptiCache technology boosts overall performance by as much as 45% over the previous generation.
•) Best Fit Applications include: Desktop or all-in-one PCs, Home servers , PC-based game systems, Desktop RAID, Direct attached external storage devices (DAS), Network attached storage devices (NAS)
•) Formerly know as "desktop"
•) OSes supported: Windows, Mac, Linux
•) 2 year limited warranty
---
HGST Deskstar Hard Drive
View More Details
Product manufacturer's description: [4TB Capacity]
: The Deskstar 7K4000 offers the industry's highest hard drive capacity at an enormous four terabytes of storage with 7200 RPM performance in a standard 3.5-inch form factor. This drive uses Advanced Format, which increases the sector size on HDDs from 512 bytes to 4096 (4K) bytes, thereby increasing capacities and improving error correcting capabilities. Consult the Hitachi Advanced Format Technology Brief for more information. The Deskstar 7K4000 delivers an extraordinary blend of capacity, performance and power efficiency. This model will ship with 64MB cache buffer and 6Gb/s SATA interface, making it an ideal storage platform for desktop computing. Leveraging eighth-generation power management technology, including power-saving innovations like HiVERT technology, this drive delivers excellent power efficiency and thermal emissions to help manufacturers meet energy compliance targets and extend drive life.
Basic Features
•) 7200 RPM performance
•) 6Gb/s SATA interface
•) Advanced Format
---
** For SATA II Desktop Computers **
Western Digital Raptor 160GB SATA/300 Internal Hard Drive
View More Details
Need additional storage space? This 3.5-inch Western Digital Raptor SATA Hard Drive comes equipped with a whopping 160 GB storage capacity for all of your applications, photos, videos, music and more! Connecting this WD1600HLFS Raptor to your system is a piece of cake even if you aren't all that technologically gifted thanks to the SATA interface.Transferring over your data takes moments with the 300 MB/s transfer rate. This WD1600HLFS drive's 10,000 RPM spindle speed in combination with its 16 MB buffer ensures smooth operation. With an impressive 8.1 ms random access read/write time, you won't be waiting around all day to get your data where you want it either. Order your 3.5-inch Western Digital Raptor SATA Hard Drive today!
Basic Features
? 160 GB storage capacity SATA II (3Gbps) interface 10,000 RPM spindle speed 16 MB buffer
? Random Access (read/write): 8. 1 ms Average Read Speed: 80.5 MB/s 3.5-inch form factor Lead free
? Power Specifications: 5VDC, 0.90A 12VDC, 0.30A Regulatory Approvals: BSMI cULus C-Tick MIC CE
---
** For Laptop Computers **
HGST Travelstar 7K1000 2.5-Inch 1TB Internal Hard Drive
View More Details
Travelstar 7K1000 is the industry's only seventh-generation 7200 RPM mobile hard drive and ideally suited for notebook PC upgrades and portable, high-capacity personal storage products. At 500GB/platter, this 2.5-inch hard drive offers a 1TB capacity and leverages Advanced Format, which increased the physical sector size from 512 bytes to 4,096 (4K) bytes to improve drive capacities and error correction capabilities. The Travelstar 7K1000 is the industry's first high-performance 1TB 2.5-inch HDD with a 6Gb/s SATA interface and delivers the highest mobile HDD performance in PCMark Vantage benchmark testing. HGST provides best-of-breed operating shock and outstanding power management in Travelstar 7K1000 for sturdy unplugged notebook performance. Highlights include proven seventh-generation technology, 1TB capacity, low power consumption, industry's highest shock tolerance, halogen-free design for an eco-friendly footprint and Serial ATA 6Gb/s for high data throughput. The Travelstar 7K1000 allows manufacturers to deliver high-capacity, power-efficient systems with desktop-like performance. Manufacturers can consult the HGST Advanced Format Technology Brief for more information on using these hard drives. The 7K1000 continues HGST's tradition of ecological leadership and carries its EcoTrac classification. Travelstar 7K1000 delivers speed and capacity, without sacrificing battery life or audio quality, to meet the multi-tasking demands of commercial and consumer users on the go.
Basic Features
? 1TB of Capacity
? Advanced Format, industry standard 4K sector size
? 512 byte emulation (512e)
? 7200 RPM high-performance HDD
? 6Gb/s SATA interface
? For a thorough list of features, download this drive's datasheet.
---
** For Network Computers **
HGST Deskstar NAS SATA III Internal Hard Drive
View More Details
The Desk star NAS hard drive is a 7200 RPM 3.5-inch hard drive that provides an exceptional blend of reliability and performance, making it an ideal solution for consumer and commercial desktop NAS systems. This NAS-ready hard drive from HGST delivers media transfer rates that are as much as 20% faster than 5400 RPM drives and seek times less than 12ms. Furthermore, Desk star NAS hard drives incorporate a rotational vibration sensor and achieve reliability of 1M hours MTBF. All HGST hard drives are designed to the highest quality standards with field-proven components. They are backed by HGST worldwide technical support and integration services, enabling customers around the globe to bring their products to market quickly.
Basic Features
•) 7200 RPM performance
•) Up to 6TB capacity
•) 1 million hours MTBF
•) 6Gb/s SATA interface
•) No additional hardware required
•) 3 year limited warranty
Conclusion
Finally, you may ask yourself after viewing the relatively-high prices of best hard drives listed above: Are they really worth their prices? Why not just to go for any hard drive of any brand for a low price and that's all? In fact the matter is more than just price and capacity, it exceeds them to performance and endurance. As for performance, you need a quite fast and stable hard drive to handle the heavy load of today's applications and games; otherwise you'll end up with what will slow down the overall system performance. As for endurance, you need to make sure that the drive's brand you intend to buy has a low failure rate determined by IT professionals and a high reputation gained from users.
---
Say Thank You To The Author By Sharing His Article
Disclaimer
Products prices and availability are accurate as of the date/time indicated and are subject to change. Any price and availability information displayed on amazon.com as applicable at the time of purchase will apply to the purchase of this product.