There's a consensus among IT professionals that the main culprit for the slowness modern computers undergo is the primary storage device, represented often by a mechanical hard drive. As a computer technician myself, I've found that most of the sufferings computer users experience come from their slow hard drive, and seeking the fastest internal hard drive as a replacement for your current drive is a very wise step to take. Because usually there is not complaints against processor speed, and the graphics card performance is impressive, and the only thing that gets on nerves is the slow responsiveness of the computer systems, especially when you try to store/transfer huge files, load resource-demanding games, launch heavy applications, or even to just try to bootup a machine with an operating system stuffed with many applications. These all justify finding a speedy solution to cut down on the time wasted in waiting.
Why To Go For The Fastest Internal Hard Drive
I have written this article assuming that you are already aware of the existence of the flash-based solid state drive (SSD), which is undoubtedly a much faster and a more reliable solution than any spinning platter-based hard drive out there. [Check out our fastest SSD list] Yes, there are still strong and valid reasons for picking up a traditional hard drive instead of an SSD, but I have been always recommending obtaining them both in a combination where the SSD takes care of the operating system and user's favorite files and applications, while the hard drive is dedicated to backup and file transfer and storage. [Read if you wish: "The Best To Do: Get an SSD and Keep Your HDD"]. That's if you want to build a new rig and can afford the expenses of both, otherwise you can still find in premium hard drives what meets most of your requirements.
That being said, obtaining the fastest internal hard drive can be a good idea if your budget is limited and you only want a single drive for your machine for all purposes.
Our recommendations
There are many hard drive brands in the market, and without testing each of them you cannot distinguish the good from the bad. To be honest, I have only tested Western Digital Raptor 160GB SATA/300 10,000RPM 16MB Hard Drive and I can say without doubt it is the best hard drive in terms of speed, price and reliability you can get for your SATA-II computer. It runs at 10k spindle speed, with 160 GB capacity, and for what? for just $30 [At the time I bought it. Just note that this drive is so on-demand, and there is literally a HUGE SALE on it. So the more time passes the higher the price becomes], can you imagine? I have placed this hard drive in the "fastest SATA-II hard drive for older computers" section below.
As for the rest of drives listed below, I relied primarily on the IT professionals' reviews, like Tom's Hardware, Anand Tech, StorageReview, and others. I also benefited from the many users' experiences stated in their reviews on Amazon.com for the particular products, and therefore I have made this unique list that gathers the best & fastest traditional hard drives in one place.
The drives listed below are deemed the best and fastest SATA III hard drives of today. We will keep updating this list whenever necessary.
---
Note: The products prices are as of 02-January-2015 at 03:30 GMT -
** For Desktop Computers **
In Terms Of Speed
Seagate Enterprise Capacity 7200RPM Internal Hard Drive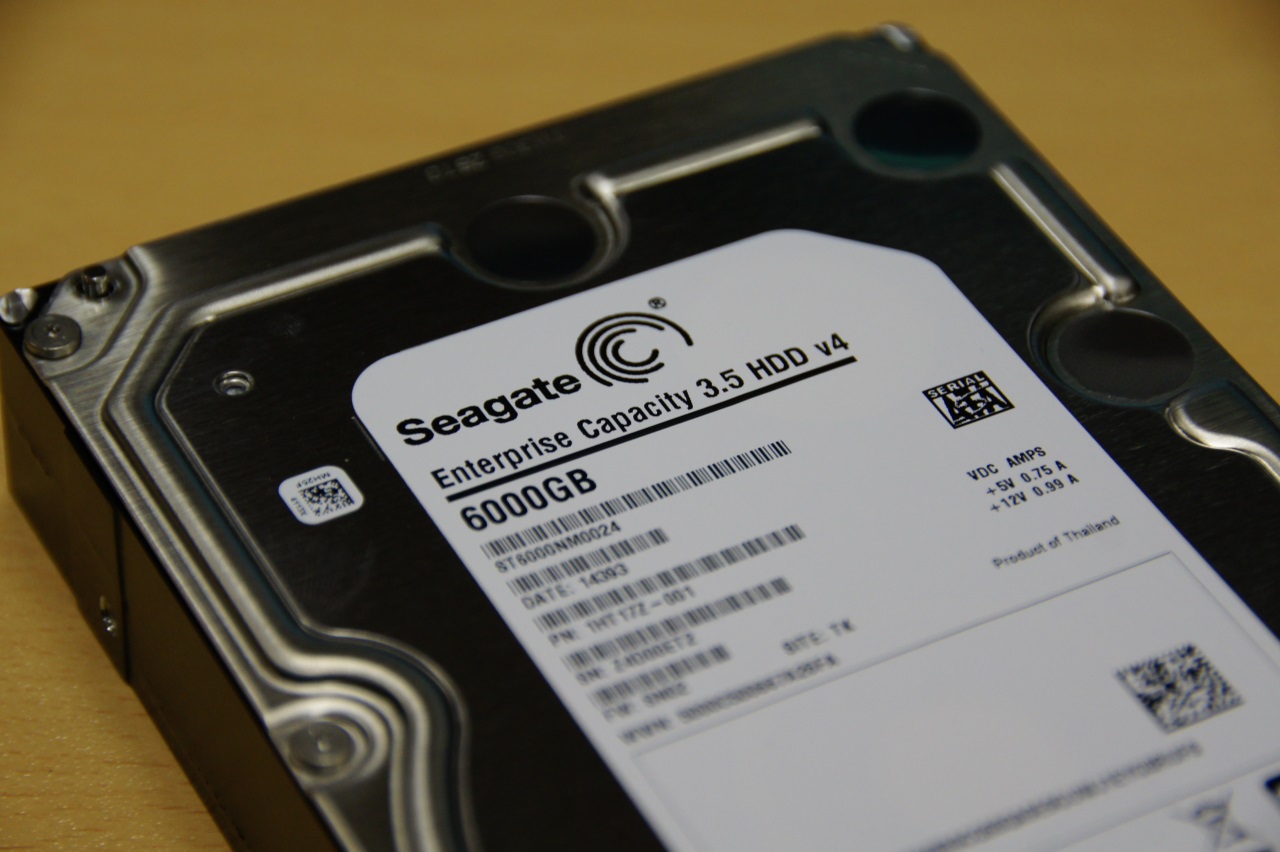 View More Details
Although this hard drive spins at 7200RPM spindle speed, but with the advanced techniques implemented in manufacturing this drive, it outperforms the former king of speed, the
Western Digital VelociRaptor
that runs at 10k RPM.
Supporting one of the industry's best response times today for a 6TB nearline drive, the Enterprise Capacity 3.5 HDD with it's multi-drive RV-tolerance capabilities enables faster data transfers by utilizing the latest interfaces on a trusted platform. And for reliable access to bulk storage, the Enterprise Capacity 3.5 HDD provides excellent IOPS/TB along with the reliability, availability and serviceability that your customers expect.
This drive comes in other 3 capacities, 5TB, 4TB and 2TB, but they are less speedy than this model. You can read our review on this drive on this page
Basic Features
•) World's fastest 6, 5, 4 and 2TB nearline hard drives
•) 10x the workload rating of desktop drives
•) Best-in-class rotational vibration tolerance ensures consistent performance
•) Improved power and cooling efficiencies with low power consumption and on demand Power Choice technology
•) Interface Type SATA 6.0 Gb/s (SATA 3)
•) Multi-drive firmware maximized for enterprise RAID system availability
•) 5 year limited warranty
---
If you find this drive expensive and you cannot afford it, consider a 7200 RPM hard drive. One of the best hard drives of this class is "Western Digital Black Hard Drive"
Western Digital Black
View More Details
The new generation of WD Black hard drives feature Vibration Control Technology (VCT) which allows the disks inside the drive to adapt to any mounting problems or vibration conditions that are inside your case, resulting in increased data accuracy, performance and reliability over time. Put simply, this means you can game harder, faster and longer. In addition to Vibration Control Technology (VCT), WD Black is also equipped with StableTrac Technology, which secures the motor shaft inside the drive at both ends to help reduce additional system-induced vibrations. StableTrac confidently stabilizes the platters inside, resulting in more accurate tracking in a particular sector during read and write operations and delivers increased performance. (2 TB models and above). You can view our review on this drive on
this page
.
Basic Features
•) Next-generation desktop performance hard drive designed to intensify your PC experience.
•) Improved Architectural Designs, featuring a Dual Core Processor, High Resolution Controller, and StableTrac Technology
•) Improved Data Protection, with Vibration Control Technology, Corruption Protection Technology, and No Touch Ramp Load Technology
•) Superior responsiveness with the next-generation speed that you need
•) Interface Type SATA 6.0 Gb/s (SATA 3)
•) OSes supported: Windows, Mac, Linux
•) 5 year limited warranty
---
Hitachi Deskstar 3.5-inch 7200 RPM
4TB

HDD 7k4000
View More Details
The Deskstar 7K4000 offers the industry's highest hard drive capacity at an enormous four terabytes of storage with 7200 RPM performance in a standard 3.5-inch form factor. This drive uses Advanced Format, which increases the sector size on HDDs from 512 bytes to 4096 (4K) bytes, thereby increasing capacities and improving error correcting capabilities. Consult the Hitachi Advanced Format Technology Brief for more information. The 7K4000 also boasts a 6Gb/s SATA interface and 64MB cache buffer to balance performance and capacity. The Deskstar 7K4000 is designed to help manufacturers deliver high-performance, high-capacity, power-efficient systems. Manufacturers planning to use the 4TB drive in systems should consult the Hitachi High Capacity Technology Brief.
Basic Features
•) Enormous 4TB capacity
•) Advanced Format
•) 512 emulation
•) 7200 RPM performance
•) 6Gb/s SATA interface
•) Eco-friendly, halogen-free design
•) Interface : SATA 6Gb/s
•) Sector size (variable, Bytes/sector) : 512
•) Max areal density (Gbits/sq. in.) : 446
•) Data buffer (MB) : 64
•) Rotational Speed (RPM) : 7200
•) Media transfer rate (Mbits/sec, max) : 1638
•) Interface transfer rate (MB/sec, max) : 600
---
** For Laptop Computers **
In Terms Of Speed
HGST Travelstar 7K1000 2.5-Inch 1TB 7200 RPM HDD
View More Details
Travelstar 7K1000 is the industry's only seventh-generation 7200 RPM mobile hard drive and ideally suited for notebook PC upgrades and portable, high-capacity personal storage products. At 500GB/platter, this 2.5-inch hard drive offers a 1TB capacity and leverages Advanced Format, which increased the physical sector size from 512 bytes to 4,096 (4K) bytes to improve drive capacities and error correction capabilities. The Travelstar 7K1000 is the industry's first high-performance 1TB 2.5-inch HDD with a 6Gb/s SATA interface and delivers the highest mobile HDD performance in PCMark Vantage benchmark testing. HGST provides best-of-breed operating shock and outstanding power management in Travelstar 7K1000 for sturdy unplugged notebook performance. Highlights include proven seventh-generation technology, 1TB capacity, low power consumption, industry's highest shock tolerance, halogen-free design for an eco-friendly footprint and Serial ATA 6Gb/s for high data throughput. The Travelstar 7K1000 allows manufacturers to deliver high-capacity, power-efficient systems with desktop-like performance. Manufacturers can consult the HGST Advanced Format Technology Brief for more information on using these hard drives. The 7K1000 continues HGST's tradition of ecological leadership and carries its EcoTrac classification. Travelstar 7K1000 delivers speed and capacity, without sacrificing battery life or audio quality, to meet the multi-tasking demands of commercial and consumer users on the go.
Basic Features
•) 1TB of Capacity
•) Advanced Format, industry standard 4K sector size
•) 512 byte emulation (512e)
•) 7200 RPM high-performance HDD
•) 6Gb/s SATA interface
Please download the HGST Travelstar 7K1000 Specs Datasheet for more details
---
** For SATA II Computers **
The majority of desktop computers worldwide still use SATA II interface, and that impelled Western Digital to release its newest hard drive aimed at this class of computers.
Western Digital Raptor 160GB SATA/300
View More Details
Need additional storage space? This 3.5-inch Western Digital Raptor SATA Hard Drive comes equipped with a whopping 160 GB storage capacity for all of your applications, photos, videos, music and more! Connecting this WD1600HLFS Raptor to your system is a piece of cake even if you aren't all that technologically gifted thanks to the SATA interface.Transferring over your data takes moments with the 300 MB/s transfer rate. This WD1600HLFS drive's 10,000 RPM spindle speed in combination with its 16 MB buffer ensures smooth operation. With an impressive 8.1 ms random access read/write time, you won't be waiting around all day to get your data where you want it either. Order your 3.5-inch Western Digital Raptor SATA Hard Drive today!
Basic Features
? 160 GB storage capacity SATA II (3Gbps) interface 10,000 RPM spindle speed 16 MB buffer
? Random Access (read/write): 8. 1 ms Average Read Speed: 80.5 MB/s 3.5-inch form factor Lead free
? Power Specifications: 5VDC, 0.90A 12VDC, 0.30A Regulatory Approvals: BSMI cULus C-Tick MIC CE
? List Price: $329.00 — Current Price: $29
---
Conclusion
These are the best & fastest traditional hard drives I could find during my search online. I have made a list for the fastest and best external portable hard drives to help you make the right choice when decided to go for an external storage solution.
---
Say Thank You To The Author By Sharing His Article
Disclaimer
Products prices and availability are accurate as of the date/time indicated and are subject to change. Any price and availability information displayed on amazon.com as applicable at the time of purchase will apply to the purchase of this product.